A mushroom educational in activity
Your senses are awake! A fascinating world of colors and scents awaits you with a variety of cultivated varieties.
Bag room

This artisanal technique is presented to you here in rooms with low ceilings which cannot be mechanized.
The tour presents you with ancient and modern techniques for production in Saumur.

Shii také

Here is the 2e most cultivated mushroom in the world after the Paris mushroom.
Come and discover its surprising virtues to be in top shape all year round!

Blue foot

This mushroom is known today by gourmets. It was voted the tastiest among cultivated mushrooms.
Its culture will not leave you indifferent ...

oyster

This mushroom is the most common and best known by mushroom lovers, but here you will be surprised to discover a very colorful family, because it is the most diverse in cultivation.

Ganoderma

A very surprising mushroom especially known by Asians who use it for medicinal purposes.
Its original culture will appeal to your curiosity.

Hydne Hedgehog

An experimental culture for this most curious mushroom.
Family Destination!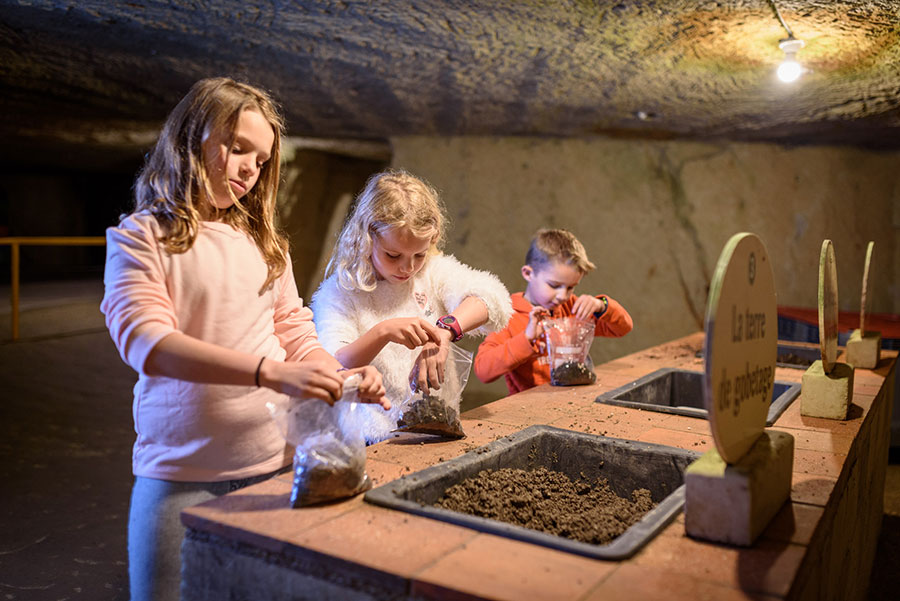 Discover mushroom secrets
Explore step by step the mushroom where you will be exposed to the secrets of varied and experimental cultures.
Family experience the different workshops offered. By touch or observation, you will discover the fascinating world of mushrooms through their secrets.
A course where the curiosity of young and old should be satisfied because the mushrooms have more than one trick up their sleeve to surprise you.
The largest collection of wild mushrooms in Europe
Like a mushroom guide, our galleries are full of original varieties with fun names. Spot hare's ears, frizzy sparassis, panther amanita, giant wolf's puff, dead trumpets and other beef tongues from the museum's very long list of mushrooms.
The House " troglodyte »Of the mushroom
Discover this ancient habitat carved out of tufa stone. It houses a collection of over 1000 mushroom objects from around the world.