The Mushroom Museum is installed in immense underground galleries dug in the tuffeau. One part is devoted to wild mushrooms. The other part is a working mushroom farm allowing you to discover the secrets of growing mushrooms from Paris, blue feet, shii-také and oyster mushrooms.
Keywords: mushroom, Cellar culture, Mycology, Troglodyte, Nature and environment.
Entertainment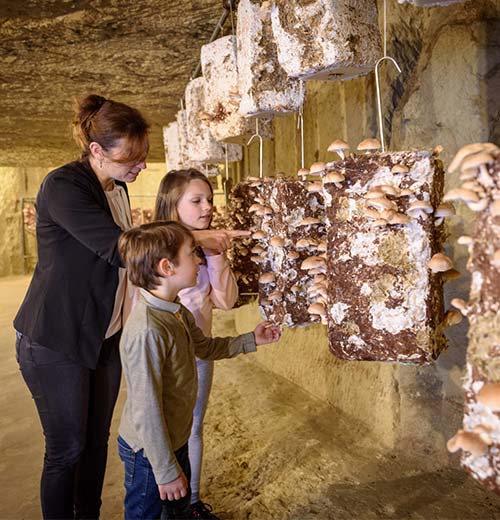 Guided tour
We will approach the initiation to the world of the mushroom, the discovery of the various cultivated mushrooms and the recognition of several wild mushrooms.
Accommodation capacity : 4 classes simultaneously.
Qualification of the animation manager : mushroom guide
Levels : Kindergarten - Elementary - Colleges / High Schools
Responsible: Mr. Stéphane MICHON
Saint-Hilaire
49400 SAUMUR
Tel: 02.41.50.70.04
Prices
Group rates : tickets and entertainment included, excluding meals, accommodation and transport
Services
Duration
Prices / child
Prices / class
free
accompanist
Tours of the Villa
1h15
6,00 €
1 for 20 children
Visit + educational workshop
2h00
11,00 €
Total
Services