Tourist trip in the Loire Valley
At the Mushroom Museum, we welcome your tourist group to the heart of Maine-et-Loire, more precisely to Saumur, land of troglodyte galleries.
Organize your tourist trip to the Mushroom Museum and stroll among our kilometers of troglodyte cellars to discover the largest collection of mushrooms in Europe.
Take your groups of tourists to this unique site in Anjou, an educational mushroom farm from which 10 tonnes of mushrooms are harvested each year.
In addition to offering reduced rates for groups, we provide tour operators, coach operators and bus travel organizers with completely new infrastructure, accessible to all, including a large shaded car park that can accommodate up to 20 cars.
Responsible: Mr. Stéphane MICHON
Saint-Hilaire
49400 SAUMUR
Tel: 02.41.50.70.04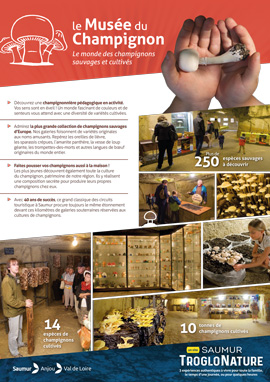 Rates (price per person)
Solo ticket 1 entry
Duo ticket 2 entries
(Garden of Puygirault +
Stone and Light or
Mushroom Museum)

Trio ticket 3 entries
(Gardens of Puygirault +
Stone and Light +
Mushroom Museum)

Price with friends
(30 people minimum)

7,50 €
(instead of € 9)
13,00 €
(instead of € 15)
16,00 €
(instead of € 20)
Price school
(25 people minimum)

6,00 €
(instead of € 7)
9,00 €
(instead of € 12)
12,00 €
(instead of € 15)
With our solo, duo and trio entry offers, enjoy your visits according to your wishes and without time limit and benefit from reduced rates on your multi-site tickets.